Menu Planning – Promotes Efficiency At Meal Times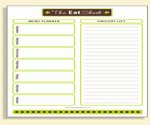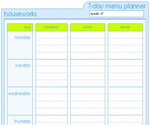 Menu planning is just the thing for those with busy lives, it takes the guess work out of the "what's for dinner" question, and it's a lot more nutritious and healthy, than stopping at the local fast food place. Planning what you are going to eat for a day, week, or month at a time not only helps you make healthy food choices but is a good routine when you are following a specific diet, such as a heart healthy diet or a vegetarian or gluten free diet, or even just a regular weight loss diet.
Although menu planning in part involves using a calendar designed for this task to list items that you will cook for a particular day's breakfast, lunch, and dinner it involves more than just plugging foods into spots on a calendar. It's a good idea to get used to planning the entire day's meals to include breakfast, lunch, and dinner, although some may only plan for the dinner meal, since that is the meal where everyone is generally home for the day and can sit down to a family meal, but even if you are by yourself planning meals for the entire day is much healthier and allows you to get into a habit of following good nutrition guidelines and it's easier to plan for the meal for the entire day. Some steps that you might want to take include:
1. Determine what family members like and be sure to include their choices in the plan.
2. Planning meals for days or weeks at a time.
3. Planning what to eat to include a variety of foods so that you don't have the same thing too often, and being willing to try new foods.
4. Thinking about your food budget and selecting foods that the family will eat, that are within the family food budget.
5. Thinking about the presentation of the meal, including color, texture, and aroma. Foods that look, feel, and smell appealing will make the food more likely to be eaten.
6. Paying attention to the portion sizes of the meal, this also helps you to stay within your food budget.
7. Placing a copy of the menu on the refrigerator where it will be easily seen by you and any family members what the meal is for a particular, day, week or month.
8. For grocery shopping make a list from the menu, so that you can avoid over spending on the food budget.
9. If you don't have an ingredient that is part of a planned menu item, be aware of what items can be substituted in the meal.
10. Locate any recipes that you will you in a place where they will be easy to find when you are ready to create the particular meal.
Planning your meals in advance not only saves time but promotes efficiency as well, making it easier to have the meal ready when it's time to eat and allowing for more time to spend enjoying the meal with family members because you haven't wasted a lot of time trying to decide what to eat, then preparing it.
Once you are ready to put your menu planning choices down on paper, one easy solution is to get a planner with blank calendar pages and you will have your plan for the days, weeks and months ahead all in one place and for a year at a time, since these calendars generally run for a year and sometimes even two. You can also find blank calendar pages with no dates and simply copy one of the pages as many times as you need and place them in a binder of your own choosing where pages can be easily added or removed. It is a time saving convenience to use software that contains a meal planner that you can keep on your computer and add, delete and update choices as needed.

For a free menu planning template click on the link to Vertex42.com

For software that helps you to plan meals click on the link to amazon.com

For tips on menu planning a great resource is:
• 7 Day Meal Planner For Dummies by Susan Nicholson RD/LD
Cooking Recipes
Cooking Basics
Cooking Measuring Tools
Cooking Measuring Techniques
Cooking Measurement Charts
Cooking Cutlery
Cooking Equipment
Kitchen Work Centers
Indoor Grilling
Cooking Easy Recipes Home