Saffron – The World's Most Expensive Spice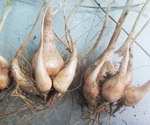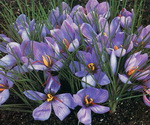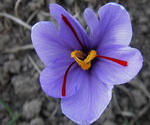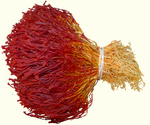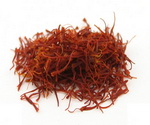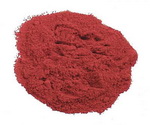 Saffron is a member of the Iridaceae family also known as the Iris family, with the botanical name Crocus sativus. The plant is an autumn flowering ornamental perennial with purple flowers, six stamens and three styles. The distinguishing feature of this plant is that it has leafless, solitary stalks, which bear no leaves until after it blooms in autumn.
The autumn blooming crocus has below ground corms or bulbs that are poisonous send up long gray-green chive-like leaves that surround the beautiful lily-like blue to violet flowers that each have three bright orange contrasting stigmas, and one long yellow thread-like stamen. It is the stigmas that are used for coloring and in culinary preparations.
The aroma is described as hay-like, honey-like, woodsy, and the flavor as pungent, earthy, bittersweet.
This spice has been described as the most expensive in the world, but it is so potent that only a very small amount is needed as a coloring or addition to a culinary preparation.
Origin
The origin of the plant is not known for sure but is thought to be Greece or Asia Minor.
History
The plant is said to have appeared in ancient Babylon and China as early as 2600 BCE. The plant is also known to have been used extensively in England where it was grown so extensively that a town was named for it.
With coriander and cumin, the plant was part of a threesome that was first taken by the Arabs to the region of Africa now known as Morocco, then later to Iran and Spain, where most of the world's spice is now produced.
Buying/Storage
Saffron must be purchased with knowledge and caution and only from a reputable source, due to the unscrupulous trade in passing off safflower as saffron to the unwary. It is recommended that the spice be bought whole instead of in the powered form since the spice can be easily substituted for by safflower or turmeric. There are standards among reputable sources that assist the buyer in knowing that they are purchasing the genuine stigmas.
The spice is generally sold in ½ gram or 1 gram packets.
The spice should be stored in an airtight container away from extremes of heat, light and humidity.
Use
The spice was used medicinally to reduce fevers and calm the nerves, and as a culinary preparation is used as a dye and to flavor foods. The spice is traditionally used to color Indian rice dishes, Italian dishes such as risotto and Spanish paella dishes. The flavor and color goes well with chicken, fish and seafood dishes.

For additional information about saffron click on the link to Wikipedia.org
For some great sections on herbs and spices some great references are:
• The Spice and Herb Bible – Second Edition by Ian Hemphill with recipes by Kate Hemphill
• The Food Encyclopedia by Jacques L. Rolland and Carol Sherman with other contributors
• Field Guide to Herbs & Spices by Aliza Green
• The Contemporary Encyclopedia of Herbs & Spices – Seasonings For The Global Kitchen by Tony Hill
Cooking Basics
Food Safety
Herbs and Spices
Safflower
Cooking Recipes