Turmeric – The Ginger Cousin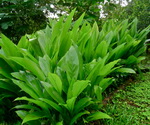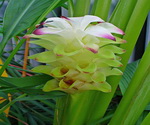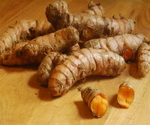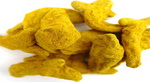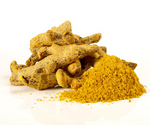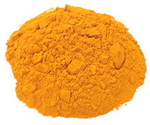 Turmeric is a member of the Zingiberaceae family also known as the ginger family, botanical name Curcuma longa. The relationship of this plant to ginger is that the plant has a rhizome (called a finger) which is the part of the root system that grows off of the primary tuber of this tropical perennial plant. The plant has bright green leaves which grow from the base of the plant and pale yellow flowers.
The powder of the spice is bright yellow, with an earthy aroma and a spicy, bitter taste, others feel that the flavor has a mild mustard and ginger flavor when freshly shredded or recently dried.
Origin
The origin of the curcuma plant is Southeast Asia. The spice is widely cultivated in Asia, the Pacific Islands, the Caribbean and South America with India the lead producer.
History
The plant was mentioned by a Greek physician as an appetite stimulant and as an aide to indigestion. The powdered form was used as a substitute for the more expensive saffron. In the Middle Ages it was used as a fabric dye as it is still today.
Buying/Storage
There are two main varieties of turmeric that are used, the Alleppey and the Madras. The Alleppey variety is dark in color and noted for its delicate notes of lemon and mint, and its earthy aroma. The Madras variety is light yellow in color and is the most commonly available.
The fingers can be purchased fresh in Korean or Southeast Asian markets and shouldn't be wilted in appearance.
The dried spice is generally sold dried as a powder and should be stored in an airtight package in the dark away from extremes of heat, and humidity, if these storage guidelines are followed, both the Alleppey and Madras varieties will retain their potency for 12-15 months.
Use
The spice is used as a mild antiseptic and thought to be good for the skin, and is also used as a dye for food coloring.
The spice is a favorite in Thai cooking and India curries, in the making of mustard and as a pickling spice. The spice also goes well with beef, chicken, and scallops, cauliflower, lentils and onion, and other spices.

For additional information about turmeric click on the link to Wikipedia.org
For some great sections on herbs and spices some great references are:
• The Spice and Herb Bible – Second Edition by Ian Hemphill with recipes by Kate Hemphill
• The Food Encyclopedia by Jacques L. Rolland and Carol Sherman with other contributors
• Field Guide to Herbs & Spices by Aliza Green
• The Contemporary Encyclopedia of Herbs & Spices – Seasonings For The Global Kitchen by Tony Hill
Cooking Basics
Food Safety
Herbs and Spices
Thyme
Cooking Recipes