Bread Makers – Great Labor Saving Devices For Baking
Bread makers also called bread machines are another great time saving device in the kitchen. Although it is nice to be able to bake bread entirely by hand it is both time consuming and labor intensive, and we don't often have time to bake bread these days with our busy lives, so it is great to have such a marvelous tool to assist in creating those delectable loaves. Using a bread machine is a marvelous way to still bake homemade bread.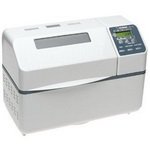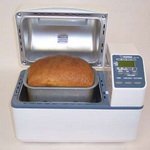 Bread is not the only thing that you can bake with a bread maker; some other uses are for making pizza dough, rolls, bagels, quickbreads, cakes, and even jams, with machines that have additional features.
Bread machines have the same basic components, a place to house the bread baking bucket, with a hinged lid, a control panel and viewing window, and the more advanced the bread machine the more buttons there are on the control panel for doing different things other than baking bread with the machine. The machine generally also has timed cycles for different types of baking. The capacity of the bucket that holds the ingredients and ultimately the baked bread or other baked item generally comes in several different loaf capacities such as 1 pound, 1.5 pound, 2.0 pounds, and 2.5 pounds.
The bread machine also different cycles and has a blade that mixes the yeast activated dough, doing what you would normally do by hand, this is truly a great labor saving device. The bread machine also does the mixing, resting and other functions by times cycles, just as you would do by kneading the dough, and letting it rest. The machine also allows you to select how brown you want the crust, and has specified times for different types of breads to cook.
Bread machines also come in a range of prices depending upon what extra features you want, and you can find a good refurbished machine for about $50 and up to over $200 for a new machine.
Here are some nice instructions from wikihow.com on how to use a bread machine to make bread for either baking in the machine or in your oven.
For some nice instructions on how to use a bread maker click on the link to wikihow.com
For some additional tips on bread makers and how to use a packaged bread mix in the machine click on the link to ehow.com
For some great sections on cooking equipment, some great references are:
• The Complete America's Test Kitchen TV Show Cookbook 2001-2010 by the editors at America's Test Kitchen
Cooking Equipment
Stand Mixers
Food Processors
Kitchen Blenders
Immersion Blenders
Juice Extractors
Crock Pots
Rice Cookers
Cooking Basics
Food Safety
Cooking And Nutrition
Indoor Grilling
Kitchen Work Centers
Herbs And Spices
Cooking Resources
Cooking Recipes
Cooking Easy Recipes Home