Ginger – The Zesty Spice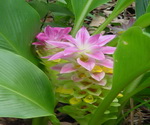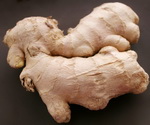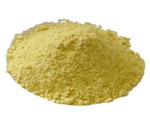 Ginger is a member of the Zingiberaceae family also known as the ginger family, the botanical name of the species used in culinary food preparations is Zingiber officinalis. The plant is a tropical perennial with erect leafy shoots. There are white or yellow blossoms with a purple speckled lip at the end of a flower stem with an oblong spike that arises from the rootstock.
Origin
The origin of the plant is thought to be China although it isn't known for certain.
History
The plant is known to have been cultivated in ancient China and India. The plant was introduced to Japan about 2,000 years ago. The Babylonians, Egyptians, and Persians used the spice in cooking and around 2400 BCE the Greeks made gingerbread similar to what we make today. The spice was easily transported in pots still growing as rhizomes and thus was transplanted to many places including Germany, France, and England by the 11th century, to East Africa by the 13th century, to Jamaica by the Spanish in the 16th century and the Portuguese to West Africa.
Buying/Storage
The spice can be purchased as a fresh root which is usually referred to as hands because the branches of the root look like fingers and should have firm flesh not wrinkled. The root can be stored in an open container in the cupboard like fresh onions and garlic.
The powdered spice should have a brilliant yellow color with the aroma of mild pepper. The sliced and ground spice should be stored in an airtight package away from extremes of heat, light and humidity.
Use
The fresh or powdered spice is often used in cakes, pastries and cookies (or as the English and Canadians refer to them, biscuits). The spice is used extensively in many Asian dishes especially curries, the Japanese like to pickle the spice and the Indians use the spice in curries as well.

For additional information about ginger click on the link to Wikipedia.org
For some great sections on herbs and spices some great references are:
• The Spice and Herb Bible – Second Edition by Ian Hemphill with recipes by Kate Hemphill
• The Food Encyclopedia by Jacques L. Rolland and Carol Sherman with other contributors
• Field Guide to Herbs & Spices by Aliza Green
• The Contemporary Encyclopedia of Herbs & Spices – Seasonings For The Global Kitchen by Tony Hill
Cooking Basics
Food Safety
Herbs and Spices
Garlic
Cooking Recipes