Horseradish – The Herb With The Pungent, Tear Inducing Aroma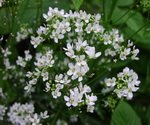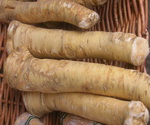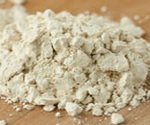 Horseradish is a perennial herb and member of the Brassicaceae family also known as the cabbage family, with dark green leaves that look like spinach, with numerous small white flowers.
The herb has a potent eye watering aroma and a hot and spicy taste like Chinese mustard or Japanese Wasabi.
Origin
Horseradish is believed to have originated in Central Europe but it cannot be said with a certainty that this was its origin, since some believe that it originated in Eastern Europe, and is native to this part of Europe.
History
The plant was known to grow wild in Finland, Poland and Russia. The plant was found naturally in Europe by the 13th century and by the 16th century was said to be growing wild in England. The plant was eaten as one of the bitter herbs during the Jewish Passover as a reminder of the enslavement of the ancient Hebrews by the Egyptians. Buying/Storage
The fresh herb can be stored in the refrigerator for up to two weeks and in the freezer for up to two months.
Jars of the paste and relish are popular in supermarkets. The granules and flakes have a different taste than the fresh herb, and should be stored in airtight packages away from heat, light and humidity.
Use
The herb has been used in the naturopathy form of medicine to clear respiratory congestion due to its potent aroma.
The herb is generally added as a sauce served cold or to warm foods at the end of cooking. The most common use is as mustard applied to cold meats such as roast beef, corned beef, and ham. The herb in the form of a sauce also complements fish and seafood.

For additional information about horseradish click on the link to Wikipedia.org
For some great sections on herbs and spices some great references are:
• The Spice and Herb Bible – Second Edition by Ian Hemphill with recipes by Kate Hemphill
• The Food Encyclopedia by Jacques L. Rolland and Carol Sherman with other contributors
• Field Guide to Herbs & Spices by Aliza Green
• The Contemporary Encyclopedia of Herbs & Spices – Seasonings For The Global Kitchen by Tony Hill
Cooking Basics
Food Safety
Herbs and Spices
Ginger
Cooking Recipes