Ice Cream Makers – Easy To Use With Delicious Results
Ice cream makers are a very popular kitchen tool for creating what is probably the world's favorite dessert. The flavors of ice cream that you can make in these kitchen versions are as numerous as those in ice cream shops. These machines are simple to operate and you can't tell the difference between what you make at home and what you buy in a store or shop.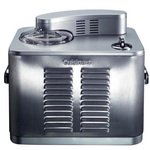 Ice cream makers can come in varieties that are electric or hand cranked, with built in freezer capabilities right in the machine or with a freezer bowl that has to be frozen in the refrigerator first. These machines can make gelatos, and frozen yogurts, hard ice cream or soft serve ice cream depending on the features of the machine.
These machines generally have one basic design, with a unit that houses the bowl that the ice cream is made in, whether the machine is electric or hand cranked. The electric unit generally rotates the bowl or turns the paddle, while you turn a paddle that stirs the mixture when it is a hand cranked machine.
When purchasing an ice cream machine it is good to look for one with no less than a 1 ½ quart capacity, one that is electric, and it should have a revolving canister with a mixing arm. The price can range from less than $50 to over $200 dollars depending upon how close the machine is to a professional grade model. The capacity of these ice cream machines can range from as small as one pint to over 6 quarts.

For some additional tips on ice cream makers and how to use them click on the link to ehow.com
For some great sections on cooking equipment, some great references are:
• The Complete America's Test Kitchen TV Show Cookbook 2001-2010 by the editors at America's Test Kitchen
Cooking Equipment
Stand Mixers
Food Processors
Kitchen Blenders
Immersion Blenders
Juice Extractors
Crock Pots
Rice Cookers
Bread Makers
Cooking Basics
Food Safety
Cooking And Nutrition
Indoor Grilling
Kitchen Work Centers
Herbs And Spices
Cooking Resources
Cooking Recipes
Cooking Easy Recipes Home