Coffee Makers – Brewing Your Own Perfect Cup
Coffee makers were invented to brew one of the most irresistible and most often consumed beverages in the world. Many people just don't become fully functional until they have had their daily dose or doses of caffeine from coffee. In this stressful, busy world that we live in, for many coffee gives them that extra boost that they need to get through the day.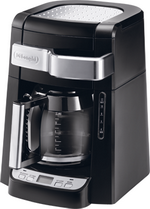 Coffee makers are great kitchen appliances for coffee lovers and easy to use. There are a number of different types of coffee machine the most common type is the electric drip machine that requires a filter. Coffee that has been pre-ground either by the coffee drinker or purchased pre-ground from a grocery store is placed in a funnel that has been lined with a paper filter, water is then poured into a chamber at the top of the machine, hot water drips onto the ground coffee and the liquid that is produced passes through the filter into a glass pot below. The machine can process a single or multiple cups of coffee.
Coffee percolators work somewhat the opposite of an electric drip machine, with the ground coffee being placed in the top chamber and water placed in the bottom chamber, the water is heated and once it boils steams moves through the filter processing the ground coffee and the condensation forms at the back and drips back down in the form of coffee.
There are also espresso machines, French press machines and other types o coffee machines.
Coffee machines come not only in different types but different price ranges as well and different sizes as well. First determine what size coffee machine you need, consider what features you would like, do you want it to brew on a timer so that you have fresh coffee when you wake up in the morning? Then choose a programmable model. Also consider how much space you have in your kitchen, whether you have room for a large espresso machine or whether you need a space saver model.
When seeking to purchase a coffee machine some features to look for are a thermal carafe that keeps coffee warm longer, with a capacity of at least 10 cups, a short brewing time preferably no more than six minutes, a copper heating element, and an easy to fill water tank.

For some great tips on coffee makers and their use click on the link to ehow.com
For some great sections on cooking equipment, some great references are:
• The Complete America's Test Kitchen TV Show Cookbook 2001-2010 by the editors at America's Test Kitchen
Cooking Equipment
Stand Mixers
Food Processors
Kitchen Blenders
Immersion Blenders
Juice Extractors
Crock Pots
Rice Cookers
Bread Makers
Ice Cream Makers
Microwave Ovens
Convection Ovens
Deep Fryers
Pressure Cookers
Grill Pans
Indoor Grilling
Panini Makers
Kitchen Work Centers
Cooking Resources
Cooking Recipes
Cooking Easy Recipes Home