Waffle Makers – Not Just For Cooking Breakfast
Waffle makers also called waffle irons are a kitchen appliance that consists of two hinged metal plates one on top and the other on the bottom with grids in a honey comb pattern that is transferred to waffles when cooked after the waffle batter is poured onto the bottom plates and baked when the lid is closed. Waffle irons are very simple to used small appliances that don't take up a lot of space. These waffle irons can be those that are used on top of the stove or they can be electric with an internal thermostat.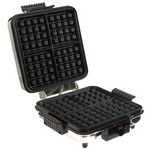 Waffle irons are great for making your own waffles at home anytime you want for either breakfast or a snack. Waffle irons can also be used to make homemade ice cream cones for another tasty snack. Waffles can also be a healthy breakfast or snack, and will accommodate homemade or readymade batters equally well. One of the nice fun things about making your own waffles is that you don't have to settle for just making plain waffles you can add other ingredients such as fruit, nuts or chocolate chips or flavorings such as lemon, orange, and vanilla as well as other ingredients.
There are basically two different types of waffle makers, the Belgian waffle iron which is larger and has a larger honeycomb grid and the classic waffle iron which is smaller with a smaller honeycomb grid and there are those waffle irons that can make two or more waffles at a time, when looking to purchase a waffle iron it is a good idea to look for one that is at the minimum electric with a ready light, and with at least four waffle capacity, and the surfaces should be nonstick making the waffles easy to remove and the waffle iron easy to clean. Some have a round shape to create round waffles and others have a rectangular shape with plates that create square waffles.

For some great tips on selecting waffle makers, their use and plenty of waffle recipes click on the link to waffle-maker.org
For some great sections on cooking equipment, some great references are:
• The Complete America's Test Kitchen TV Show Cookbook 2001-2010 by the editors at America's Test Kitchen
Cooking Equipment
Stand Mixers
Food Processors
Kitchen Blenders
Immersion Blenders
Juice Extractors
Crock Pots
Rice Cookers
Bread Makers
Ice Cream Makers
Microwave Ovens
Convection Ovens
Deep Fryers
Pressure Cookers
Grill Pans
Indoor Grilling
Panini Makers
Coffee Makers
Kitchen Work Centers
Cooking Resources
Cooking Recipes
Cooking Easy Recipes Home