Griddles – Stove Top Or Electric Which One Is Right For You?
Griddles are cooking equipment made of a flat piece of metal with a smooth surface. These pieces of cooking equipment can be made of cast iron, stainless steel, coated nonstick aluminum or wrought iron. The ones that we cook with in the home are generally cast iron, stainless steel or coated nonstick aluminum.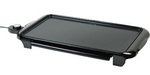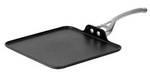 They are generally used to cook flat items such pancakes, French toast, tortillas, eggs and other types of foods such as breakfast sausages, and vegetables, they can also be used to cook different types of sandwiches. They are often the cooking equipment that works well on camping trips. They are different from grills which have ridges and are used to cook hot dogs, hamburgers, chicken, and other meats, and have grease collectors for the grease that runs off of meats.
Griddles can be purchased as stove top models to be used over the burner or as electric models. The stove top models have handles that make it easy to place or remove this piece of equipment from the hot flame of a stove. The stove top models generally resemble a square or round skillet. The electric models generally have a flat surface over a base with controls for temperature and don't have handles since these are generally not needed, you can generally remove your hot food with food tongs or a cooking spatula.
When purchasing a griddle you have to decide how you want to cook, whether stove top or electric, and also how much counter space you have and how much storage space. One set of professionals recommend for a stove top model one made of light weight anodized aluminum with a nonstick coating, heat resistant handles, one large enough to span two burners (at least 17 by 9 inches), and pour spouts for draining grease.
These kitchen tools should be seasoned before use by spraying stainless steel surfaces with cooking spray or rubbing vegetable oil the surface of cast iron models and baking in the oven prior to use to get the oil well soaked into the surface of the cast iron and they should be gently cleaned after each use to prevent destruction of nonstick surfaces, and you should refer to the owner's manual for proper cleaning of your particular type.

For some great tips on griddles and their use click on the link to ehow.com
For some great sections on cooking equipment, some great references are:
• The Complete America's Test Kitchen TV Show Cookbook 2001-2010 by the editors at America's Test Kitchen
Cooking Equipment
Stand Mixers
Food Processors
Kitchen Blenders
Immersion Blenders
Juice Extractors
Crock Pots
Rice Cookers
Bread Makers
Ice Cream Makers
Microwave Ovens
Convection Ovens
Deep Fryers
Pressure Cookers
Grill Pans
Indoor Grilling
Panini Makers
Coffee Makers
Waffle Makers
Kitchen Work Centers
Cooking Resources
Cooking Recipes
Cooking Easy Recipes Home