Toasters – Helping To Create A Warm And Tasty Breakfast
Toasters allow us to indulge our love for browned crisp bread and are one of the easiest pieces of kitchen equipment to use. The popup type have the same basic design, a rectangular box with holes in the top, are electric and come in a variety of colors, and can toast different numbers of slices of bread and other flat types of food with models that toast 2, 3, and 4 slices. With these kitchen electrics not only bread can be toasted, but bagels, pop tarts, and waffles as well. These kitchen electrics are generally used most for fixing breakfast foods.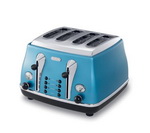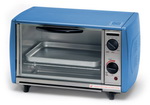 There are also toaster ovens that generally look and operate like small ovens, some even have openings on top, these combination models can be used to cook or warm foods and are well suited to small kitchens or kitchens where you may not have a stove. Modern ovens can even bake and broil, they also allow food to get crispy and brown unlike a microwave, and do especially well with frozen foods.
When choosing one of these kitchen electrics it is important to consider how much counter space you have and how many slots you would like to have and consider what features you would like to have, do you want a defrost feature? Do you want a reheat feature? Also consider how much you would be willing to spend.
When purchasing one of these kitchen electrics it is recommended to look for one with extra wide slots to accommodate bagels and thick slices of bread, and crumb trays that slide in and out easily for easy emptying and cleaning.

For some great tips on toasters and their use click on the link to ehow.com
For some great sections on cooking equipment, some great references are:
• The Complete America's Test Kitchen TV Show Cookbook 2001-2010 by the editors at America's Test Kitchen
Cooking Equipment
Stand Mixers
Food Processors
Kitchen Blenders
Immersion Blenders
Juice Extractors
Crock Pots
Rice Cookers
Bread Makers
Ice Cream Makers
Microwave Ovens
Convection Ovens
Deep Fryers
Pressure Cookers
Grill Pans
Indoor Grilling
Panini Makers
Coffee Makers
Waffle Makers
Griddles
Kitchen Work Centers
Cooking Resources
Cooking Recipes
Cooking Easy Recipes Home